Employee and Family Assistance Program
The Employee and Family Assistance Program (EFAP) is a short-term employee benefit program. We provide confidential, professional assessment, referral, and follow-up counselling services to assist employees and their family members experiencing personal problems associated with home and work life.
Our goal is to enhance the health and wellness and improve productivity of employees.
Confidentiality
The cornerstone and most important element of the Employee and Family Assistance Program is confidentiality. Information cannot be released without informed consent of the employee or where required by provincial or federal legislation.
Program Administration
The EFAP is a service offered through Human Resources – Workplace Health, Safety, and is comprised of three regional coordinators and one administrative support person.
Who is eligible for EFAP?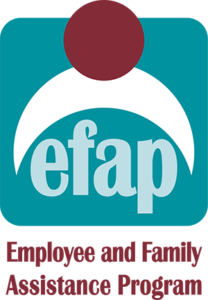 The program is available to all employees and physicians (regardless of the employee's status or how long the employee has worked with Eastern Health) as well as immediate family members of employees. Immediate family members of employees are defined as an employee's spouse or common law partner and any dependent 21 years of age or younger who is residing with the employee. Family members are required to utilize their own EFAP if one exists prior to being eligible through Eastern Health's EFAP.
Employees on lay-off status, who are made redundant, retired or who have been terminated are eligible to be assessed for EFAP services up to one year after the date of lay-off, redundancy, retirement or termination.
Scope of Services Offered
The EFAP offers assistance in a variety of areas including:
addictions;
anger management;
bereavement/grief;
critical incidents;
conflict;
coping with illness;
family and relationship;
financial counselling;
mental health / wellness;
parenting;
stress;
work/life balance; and
workplace problems.
How many counselling sessions do I qualify for under the EFAP?
Six one-hour sessions is the maximum amount an employee is eligible for per usage period. Employees are discharged from the program as of the date of their last counselling session and a year (12 months) must elapse since the date of discharge before being eligible for re-assessment. If the maximum amount of sessions are not utilized one year from the date of opening, the file will be closed and remaining sessions cannot be carried over into the following usage period. Re-entry to the program is contingent upon re-assessment by the designated EFAP regional coordinator.
The EFAP regional coordinator may recommend a maximum of eight one-hour counselling sessions per family unit, with one eligible family member not exceeding a maximum of six one-hour counselling sessions. Family members are required to first access their own EFAP if available.
Smoking cessation support program – How we can help
Did you know that the Employee and Family Assistance Program can assist you with your quit plan and that Eastern Health will provide 80 per cent financial reimbursement for a three month course of Nicotine Replacement Therapy (NRT)? Please connect with us for more details on how we can help.
Contact Information
To inquire about the program or to book an initial intake appointment, please connect with our administrative support at 777-1581.