Organ procurement and exchange of Newfoundland and Labrador (OPEN)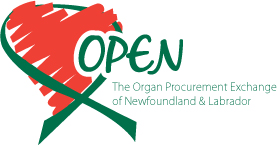 For many people, an organ transplant provides a new beginning. As you read this, there are people in Newfoundland and Labrador waiting for a transplant – in fact they are among the 4,500 Canadians who wait for this often life-saving procedure every year.
The reality is that some will die waiting. In a province where we are all connected, where everyone knows everyone, it could be someone you know. It could be you.
You are 6 times more likely to need a transplant than to be a donor!
We all have the ability to make an impact – simply by indicating your "Intent to Donate" when completing your Medical Care Plan (MCP) application or renewal form. Register your intent on the MyGovNL website. Already registered? Login HERE.
As one mother says about the gift of life that saved her son, "Although we know nothing of our donor or his/her family, they hold a special place within our family and we hope and pray that they find comfort in the fact that other lives were changed so remarkably by their amazing gift."
Pat Loder tells the story of her family's decision to donate their son Jeff's organs after he tragically passed away in 2016.
Have the conversation with your family
It is very important that you discuss your intention to donate your organs or tissues with your family and let them know what you want in the event of a sudden loss or tragedy. Family members will feel better about their decision if they know your wishes in advance.
Even though you may indicate your desire to donate, your next of kin has the final decision. Timing is critical when it comes to organ and tissue donation. Have the Talk.
How to access this service
We receive telephone referrals from health care providers on potential organ donors from all RHA's in the province.
We also receive public calls for information on organ donation, and return these calls during regular office hours. We can also be reached by email.
Hours of operation
Regular office hours: Monday – Friday, 7:30am – 3:30 pm.
On call organ donor coordinator available 24/7.
Contact information
Telephone: 709-777-6600 or toll free 1-877-640-1110
Email: OrganDonorProgram@easternhealth.ca
Locations
Our office is located at Health Sciences Centre but we provide deceased organ donation services to all RHA's in Newfoundland and Labrador.
Safety and other important information
OPEN advocates for the importance of addressing organ donation as part of optimal end of life care.
We encourage individuals and their families to talk about their organ donation wishes. You can register your intent to donate your organs after death through MCP.
Patient/family information and education
Frequently Asked Questions (FAQs)
Check out these other stories and videos about the impact of organ donation:
Stories
The Gift of Life: Organ Recipient Shares Her Story
Ivan's Story – Liver Transplant
The Transplant Journey: Through the Eyes of a Mother
Videos
Sue and Robbie Thompson share the stories of Robbie's transplant journeys.