Eastern Health is committed to providing a website that is accessible to the widest possible audience, regardless of technology or ability.

We are actively working to increase the accessibility and usability of our website and in doing so adhere to many of the available standards and guidelines.

While every effort is being made to ensure our website is accessible, some content or services might be inaccessible to some users. In those circumstances, please contact us at webmaster@easternhealth.ca for assistance.
This website aims to conform to Level AA of the World Wide Web Consortium (W3C) Web Content Accessibility Guidelines (WCAG) 2.1. These guidelines explain how to make web content more accessible for people with disabilities.
Font size
One of the ways we have made the site more accessible is by adding a way to easily increase the size of the content on our web pages.
You can increase the size by looking in the right corner of your screen, just under the top menu where you will see an an option to increase font size.
Clicking on Font Size A will cause a + and – symbol to appear.
Clicking on the plus sign will increase the size or
clicking on the minus sign will decrease the font size.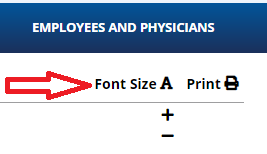 This functionality does not work for all content on our page. The size will not increase for menus, sidebars, footers and any dropdown boxes you see on our site.
Your browser also has the ability to increase and decrease the size of information on your screen and it will enlarge or decrease the size of your whole screen.
In most current browsers, you can increase the screen and text size by:
pressing Ctrl and the plus key (+) to make text larger; or by
pressing Ctrl and the minus key (-) to make it smaller.
Print
Our website also provides an easy way to print the information on our webpages by clicking on Print with the printer icon next to it.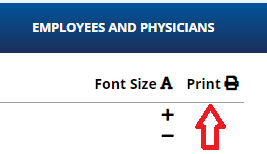 Your print will include the URL of the site you are printing.