There are two types of hyperbaric medicine, urgent and elective.
Urgent hyperbaric oxygen therapy
Hyperbaric oxygen therapy (HBOT) is used in urgent cases to treat diving disease (known as the Bends,) or for treating carbon monoxide poisoning.
How to access urgent HBOT
If you suspect you may have the Bends or carbon monoxide poisoning, please go to your local emergency department immediately.
To access urgent HBOT services, physicians can call the switchboard at 709-777-6300 and ask for the on-call physician for hyperbaric medicine.
Elective hyperbaric oxygen therapy
Hyperbaric oxygen therapy (HBOT) can also be used as an optional treatment in a variety of other conditions, such as in the treatment of complex wounds and injury due to radiation therapy.
For a listing of approved HBOT treatments in Canada, please visit the Undersea and Hyperbaric Medical Society.
Note that HBOT is not approved for the treatment of Reflex Sympathetic Dystrophy (RSD) or Cerebral Palsy.
Elective HBOT typically consists of a total of 20 to 40 sessions. Each session typically lasts approximately 90 minutes. The exact number of sessions will vary depending on the patient's condition and how well he/she responds to treatment. Sessions are performed daily, Monday to Friday.
Contact information
Location: Health Sciences Centre
Telephone: 709-777-7087
Fax: 709-777-2527
How to access service
A physician referral is required to access elective hyperbaric medicine services.
Please fax completed referrals to 709-777-2527.
Hyperbaric medicine staff will book an initial appointment once a referral is received.
All patients are assessed during this appointment to determine whether they are suited for HBOT. Hyperbaric medicine staff will discuss with each individual the benefits and risks of this therapy.
The hyperbaric medicine department does not perform diving medicals; the department does not complete assessments about a diver's ability to survive unexpected underwater or on-surface emergencies, or other sicknesses associated with diving.
How does HBOT work?
During a HBOT, an individual is enclosed in a see-through chamber, breathing 100 per cent oxygen at increased atmospheric pressure. The oxygen and increased air pressure promote the healing of damaged tissues.
What to expect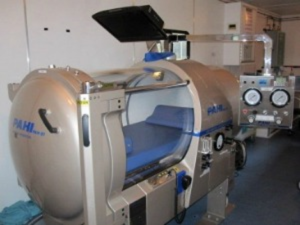 Prior to entering the chamber, patients are required to change into special clothing provided by the hyperbaric medicine department.
Patients are required to lie down in the hyperbaric chamber for the duration of the treatment. Hyperbaric staff can see and communicate with them at all times throughout the session.
Visitors are not permitted in the hyperbaric medicine department. However, HBO staff will show family members and friends where they can wait while you are receiving your treatment.
The hyperbaric chamber is a small space and some people feel claustrophobic while receiving treatment. As a patient, it is important to let the hyperbaric staff know if you have ever had feelings of claustrophobia, or while in the hyperbaric chamber, if you start to feel anxious.
While in the chamber, what will I feel?
When the pressure changes in the hyperbaric chamber, patients will likely feel fullness and/or popping in their ears, similar to the sensation of travelling on an airplane. This sensation typically resolves within a few minutes. The hyperbaric medicine staff will give you instructions on how to clear your ears. Once the pressure in the chamber has stabilized, patients shouldn't feel anything.