CEO Award of Excellence Recipients 2022
Eastern Health would like to congratulate the recipients of its annual CEO Awards of Excellence. The awards were presented this past Friday, June 24, during a special event as part of Employee Recognition Week 2022.
This year's recipients, as described by their nominators are:
Client and Family-Centred Care – Staff: Harm Reduction Team, Primary Care
The Harm Reduction Team's interactions and ability to provide on-the-spot response to needs, coupled with a judgement-free approach and environment, has significantly enabled our team to develop relationships and build trust so that clients feel safe to engage with members. This approach often leads to clients seeking additional services as well as spreading the word within their community.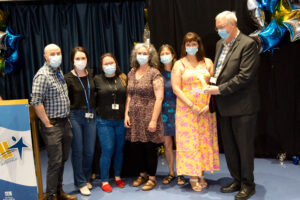 Client and Family-Centred Care – Advisor: Long Term Care Resident Family Advisory Council, Long Term Care Program
The members of the advisory council are dedicated to the residents of long term care and are passionate about advocating for the best possible care. The Site-Specific Resident Family Council Policy and its accompanying guidelines will see the transition from facility led to family-led councils. This will modernize the resident family council process and make the councils more family and resident focused to ensure the needs, wants and preferences of the residents are identified and achieved through collaboration with the site and staff.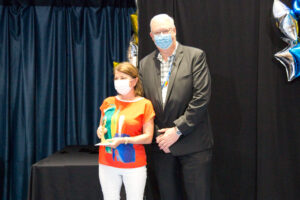 Human Spirit: Medical-Surgical Intensive Care Unit (MSICU) – Critical Care Team, Critical Care
Located at the Health Sciences Centre, the MSICU is the only tertiary care unit in the province. Despite the challenges of the past two years, the focus remained the same: to provide exceptional patient care. All members of this team stood up, volunteered, sacrificed and made a difference. Their integrity in the face of uncertainty was an inspiration, not only to other teams, but to each other.
Innovation: Therapeutic Recreation Discharge Liaison Project (DLP), Mental Health and Addictions
DLP is an innovative program that highlights effective, timely, client-centred care for individuals with complex mental health issues by ensuring a direct continuum of care from inpatient to the community and has resulted in a measureable improvement of the patient's quality of life. This project was awarded the "Innovative Practice in Therapeutic Recreation Award" by the Canadian Therapeutic Recreation Association.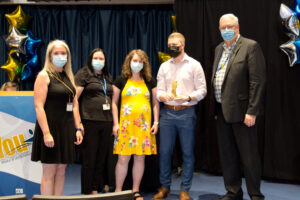 Leadership: Melissa Coish, Primary Health Care
Melissa is an amazing leader and a fantastic human being! She challenges us to dream big, motivates us to succeed, while encouraging life-long learning so we can be more tomorrow than we are today. We appreciate Melissa for her guidance, her passion and her support. She inspires us every day.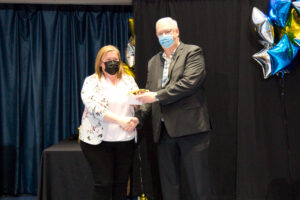 Safety:
Infection Control Coordinators & Practitioners, Infection Prevention & Control Program
Eastern Health's ICPs have shown steadfast leadership through the course of COVID-19 pandemic. In the face of the unknown, they demonstrated their commitment to safety by keeping staff and patients, clients and residents aware of the ever-changing safe work practices and procedures to prevent the spread of COVID-19 in our facilities by educating and advising best practices to all facets of Eastern Health. Their execution as a team ensured Eastern Health was able provide safe and effective services.
Occupational Health Nursing, Workplace Health Safety and EFAP Department
The occupational health nursing team's position put them to the forefront of an unprecedented time in healthcare. Their dedication, passion, and commitment to their role allowed the organization to contain exposures, ensure employees returned to work safely, and guided affected management and staff.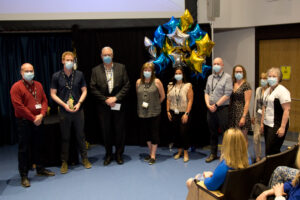 Service: 4SA COVID-19 Medicine Care Team, Regional Medicine Program
During the early days of the COVID-19 pandemic, 4SA at the Health Sciences Centre was identified as the inpatient medicine unit for COVID-19 inpatient care. The nursing care team stepped up to the challenge, despite fear and anxiety about this novel virus, to provide stellar nursing care. The commitment of these experts to provide high quality care in a safe and healthy work environment remains strong 18 months into the pandemic response.