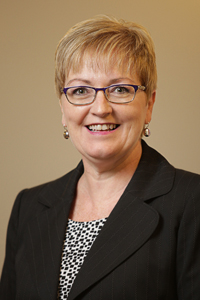 Sharon Forsey (FCPA, FCA, ICD.D) is a Fellow of the Chartered Professional Accountants of Newfoundland and Labrador. She graduated with a Bachelor of Commerce Honors (Co-operative) in 1982, and received her Chartered Accountant (CA) designation in 1984. In recognition of her dedicated service to the Institute, the profession and the community she was appointed a Fellow of the Institute in 2013. Ms. Forsey is a member of the Institute of Corporate Directors and received the ICD.D designation in March 2017.
Ms. Forsey's most recent position was director of taxation with Inmarsat, a multinational satellite telecommunications company where she was responsible for tax compliance and planning for the worldwide organization. Prior to her position with Inmarsat, she was director of tax for CHC Helicopter Corporation. Ms. Forsey also held a variety of positions with Bell Aliant predecessor companies in Newfoundland (both NewTel Enterprises and Newfoundland Telephone). She articled with Deloitte and was a partner in the tax practice prior to leaving to pursue her career in industry.
Ms. Forsey has been very active as a volunteer having served as chair of the CA Education Foundation and as a director of the Board of Chartered Accountants of Newfoundland as well as chair of several other committees of the Institute of CA's. She has also volunteered extensively with school and sports committees and in a variety of roles in her church community.