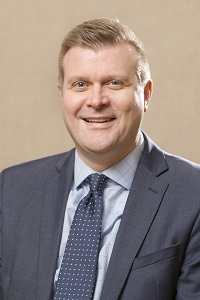 Scott Tessier is the chief executive officer (CEO) of the Canada-Newfoundland and Labrador Offshore Petroleum Board (C-NLOPB). Before joining the C-NLOPB in 2013, Mr. Tessier was an advisor in the petroleum industry on legislative and regulatory matters in Alberta. He has also served in a number of senior positions with several government departments with regulatory mandates. This includes a career with the federal public service that spans 15 years – 12 years at Fisheries and Oceans Canada and three years in the health sector. Mr. Tessier started his career with the St. John's Harbour Atlantic Coastal Action Program and has also worked with the Canadian Council of Ministers of the Environment.
Mr. Tessier has been active on a number of volunteer and regulatory boards in the province. He has been a member of the Eastern Health Board of Trustees since 2019; Board Chair of the C-NLOPB from 2013 -2019; and a member of the Board of Directors of the Marine Environmental Observation, Prediction and Response Network, also known as MEOPAR, since 2014. In his capacity as CEO of the C-NLOPB, Mr. Tessier is also an observer on the Board of One Ocean.
Mr. Tessier was born and raised in St. John's and holds a Bachelor of Engineering degree from Memorial University. He volunteers as an elementary school basketball coach, and he and his wife have three young children.