Robert B. Andrews, Vice-Chair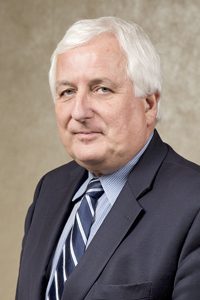 Bob Andrews has practiced law in St. John's since 1974. A Dalhousie University Law Graduate, Mr. Andrews also received a Bachelor of Commerce (Honours) from Memorial University in 1971. He has been appointed as Queen's Counsel and a Master of the Supreme Court.
Business is the focus of his practice, specifically in areas of corporate/commercial law, real estate development and financing, labour and employment and business, construction and labour litigation.
Mr. Andrews has been very active in community service as a past president of several organizations including the Rotary Club of St. John's and the Canadian Mental Health Association (national and provincial) and as a member and supporter of other community and professional organizations. He has about 16 years of prior health board service with the Waterford Hospital (Chair) and the Healthcare Corporation of St. John's. In 2012, Mr. Andrews was a recipient of the Queen's Jubilee Medal for his community service.