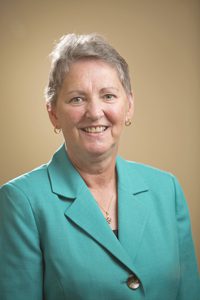 Dr. Marilyn Thompson is associate provost, Human Resources at the University of Waterloo where she oversees the administration and long-term planning of all university human resources, organizational and human development, and total compensation activities and programs. As a senior executive officer of the university, Dr. Thompson plays a key role in strategic planning and decisions affecting the employees of the university and provides vision for university-wide initiatives and human resources leadership.
Before joining uWaterloo, Dr. Thompson was a vice president of the Eastern Regional Health Authority. Having started her career as a nurse, she has held executive and senior leadership experience in health care, government, education, and private business sector. Her community activities include serving on the boards of the Community Services Council and as spokesperson for the Cabot Habitat for Humanity Women Build Project as well as president of the St. John's Board of Trade and the Newfoundland and Labrador Chambers of Commerce. Dr. Thompson received an RN diploma from the SA Grace General Hospital School of Nursing and holds a Bachelor of Nursing (MUN), Master of Education (Toronto) and Doctor of Philosophy (Toronto).
Dr. Thompson also holds appointments with the Association of Commonwealth Universities, HR Network; Excellence Canada; Lean Higher Education; and Network for Change and Continuous Innovation.