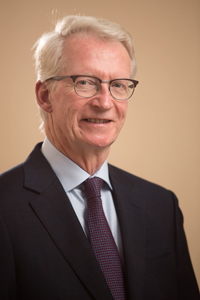 David Loveys is a chartered professional accountant with over 40 years' experience. His career has been predominately with publicly traded companies having worked with Newfoundland Telephone Company, Newtel Enterprises, CHC Helicopter Corporation and Aurion Resources Limited. He is currently the chief financial officer (CFO) of Cornerstone Capital Resources Inc. Mr. Loveys also has a consulting practice, D. R. Loveys & Associates Inc.
His past experience includes directorships on the following Boards: Duke of Edinburgh Awards, YM-YWCA, Canadian Red Cross – Newfoundland and Labrador Division, Newfoundland Society for the Physically Disabled Inc., Children's Rehabilitation Centre, and the Historic Sites Association of Newfoundland & Labrador. Currently, he is serving on the boards of Workplace NL, Newfoundland and Labrador Housing Corporation, Aurion Resources Limited, and Cornerstone Capital Resources Inc.
Mr. Loveys has a Bachelor of Commerce degree from Memorial University and a chartered accountant designation from the Newfoundland Institute of Chartered Accountants.