David S. Diamond, President and Chief Executive Officer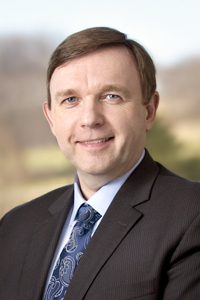 David Diamond is the president and chief executive officer of the Eastern Regional Health Authority in Newfoundland and Labrador (NL), a position he has held since November 2014 when he returned to his home province.
From 2008 to 2014, he held various leadership roles at Alberta Health Services, including the positions of chief external relations officer and senior vice president of Human Resources. Prior to joining Alberta Health Services, David was a chief operating officer and vice president at Capital Health in Edmonton, Alberta. He was also the founding chief executive officer at Central Health in Grand Falls-Windsor, NL when it was formed in 2005. He began his career at St. Clare's Mercy Hospital in 1987 as assistant director of Human Resources prior to being appointed as the director of Human Resources.
At Eastern Health, David focuses on the alignment of health-care services to improve primary care, mental health and addictions, and population health. He also values the input of and works toward increased engagement with staff, physicians, leadership and stakeholders. In early 2020, he introduced the organization's first-ever innovation strategy to support creative approaches to improving health outcomes for patients through a new "Living Lab," in partnership with academic and private sector partners.
David holds a Masters in Health Services Administration from the University of Alberta and a Bachelor of Commerce (Co-op) from Memorial University in St. John's, NL. Since 2015, he has been a member of the Board of Directors of HealthcareCan, a national association of health organizations and hospitals across Canada that advocates in support of health research and innovation. He has served as chair and is currently serving as past chair of the organization. He also has a professional affiliation with the Canadian College of Health Leaders and, in 2019, received an award of excellence for Organizational Leadership from the International Association of Business Communicators.
Office of the President and Chief Executive Officer:
Eastern Health Executive Office – Level I – Room 1345
Health Sciences Centre
Prince Philip Drive
St. John's, NL A1B 3V6